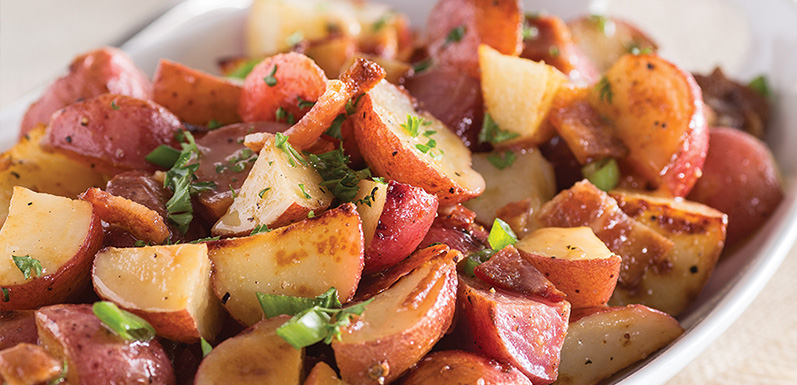 Warm Potato Salad with GloryBee Honey Dressing
It's been raining NON-STOP here for the past few days and we're all itching for some sunshine so we can start eating BBQ and having picnics. It just wouldn't be right to eat regular potato salad in the rain, so we've got a warm potato salad that is the best of both worlds!
INGREDIENTS
1/3 Cup Aunt Patty's Organic Apple Cider Vinegar
2 Tbsp Aunt Patty's Organic Virgin Coconut OIl
1/4 Cup GloryBee Raw Honey
1 Tbsp dijon mustard
1/8 tsp bottled hot pepper sauce
1-1/2 lb small new potatoes, cut in bite-sized pieces
5 slices  bacon, crisp cooked, crumbled
2 Tbsp chopped parsley
2 Tbsp chopped green onion
1/2 tsp salt
DIRECTIONS
Preheat oven to 375°F.
Combine vinegar, oil, honey, mustard and pepper sauce; mix well.
Toss half of the dressing with potatoes, reserving half.
Spread potatoes evenly on sheetpan.
Bake potatoes 18-20 minutes, tossing in the remaining dressing halfway through.
Add bacon, parsley, green onions and salt; mix well.