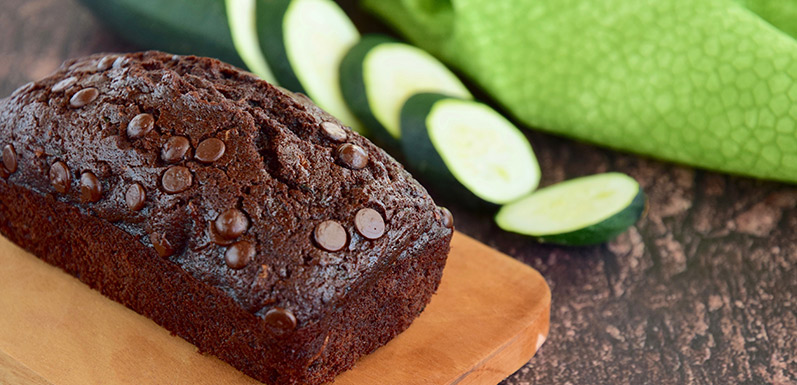 Zucchini Chocolate Chip Cake
Summertime's zucchini bounty can be used in many ways, including our Chocolate Zucchini Cake. Fudgy chocolatey goodness – we're all about that! Make it your own by adding chocolate chips or a quick glaze to the top. The recipe can be used for one Bundt cake or two loaves. Enjoy!
Ingredients
2 1/2 Cups flour
2 1/2 tsp. baking powder
3 eggs
2 Cups shredded zucchini – squeezed of all moisture then patted dry
1/2 Cup milk
2/3 cup of chocolate chips (optional)
Directions
Preheat oven to 350 degrees.
Cream coconut sugar and coconut oil together in large mixing bowl.
Add room temperature eggs to sugar/oil mix, one at a time.
Combine milk, Artisan Fermented Honey and vanilla together then add to sugar/oil mix.
Finish by adding finely shredded zucchini to sugar/oil mix. Set aside.
In a medium mixing bowl, whisk together flour, cocoa powder, baking powder, baking soda, salt and cinnamon together.
Add flour mix and chocolate chips (optional) to zucchini mix, one cup at a time, until fully incorporated. Do not overmix.
Using coconut oil and a small amount of cocoa powder, grease and flour baking pan. Pour batter into pan. Bake for approx. 45 minutes, until a toothpick inserted into center comes out clean.
Cool cake for 10 minutes in pan before inverting onto cooling rack.
Once cake is cool, you can add glaze.