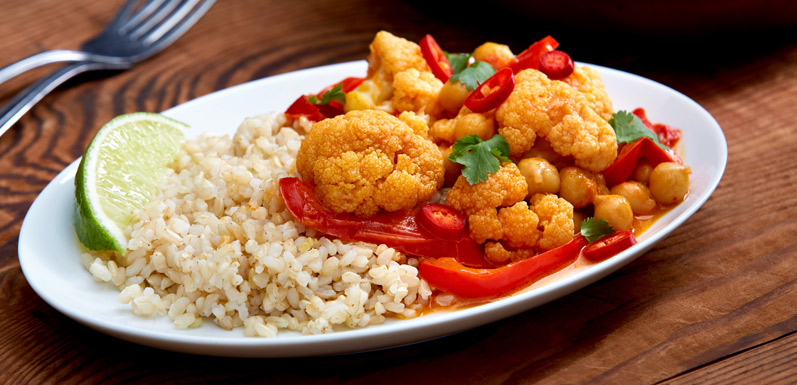 Chickpea Cauliflower Curry
Weeknights can be busy, so finding a quick and healthy dinner can be a challenge. Try our Chickpea Cauliflower Stir Fry. The whole meal, including the rice, can be made in less than 30 minutes. You can also increase the protein by adding chicken - slice chicken breast thinly, saute in coconut oil before adding curry. Enjoy!

Ingredients
2 tablespoons red or yellow curry paste
1 (13.5oz) can coconut milk
1 red bell pepper, seeded and thinly sliced
1 pound cauliflower, cut into florets
1 (14.5oz) can chickpeas, drained and rinsed
1 tablespoon fish sauce or salt to taste
Juice of ½ lime, or to taste
Cooked brown or white rice, for serving
Chopped cilantro and lime wedges, for serving
Directions
1. In a large skillet, melt coconut oil over medium heat. Add curry paste and fry until fragrant and the oil is colored bright red, about 2 minutes.
2. Stir in coconut milk, pepper, cauliflower, and chickpeas. Cover and simmer until vegetables are tender, about 5 minutes.
3. Remove from the heat and stir in coconut sugar, fish sauce or salt, and lime juice.
4. Serve over rice, garnished with cilantro and lime wedges.