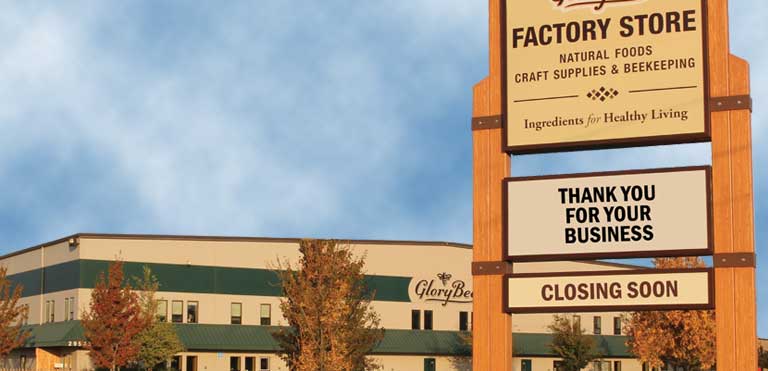 Factory Store Closure
We want to share the news with you that we have made the difficult decision to permanently close the GloryBee Factory Store on Saturday, June 27.
This decision was not made lightly. Our founders, Dick and Pat Turanski, first began selling to customers out of their family garage in 1975, and the Factory Store grew and evolved over the years to what it is today. The GloryBee Factory Store has been part of the company's legacy and relationship with our community for more than 45 years. We have had an amazing run serving our community and local beekeepers via our brick-and-mortar store as it evolved, grew and even moved locations over the years.
As we celebrate this legacy, we also want to celebrate this as a positive change which allows us to continue to focus on our core business of supplying ingredients to food and beverage manufacturers, wholesalers and distributors, bakeries and retailers. As you may or may not know, you are probably already enjoying high-quality natural and organic ingredients in many of your favorite natural prepared foods and restaurant meals!
GloryBee and the Turanski family would like to say thank you, from the bottom of our hearts, for your support and genuine relationship with us for so many years. We look forward to serving your needs with our local partners and online at glorybee.com.
Many of our retail honey and natural sweetener products can be found at local retailers.
Stay tuned for more information on will call order for wholesale customers, and local beekeeping partnerships.