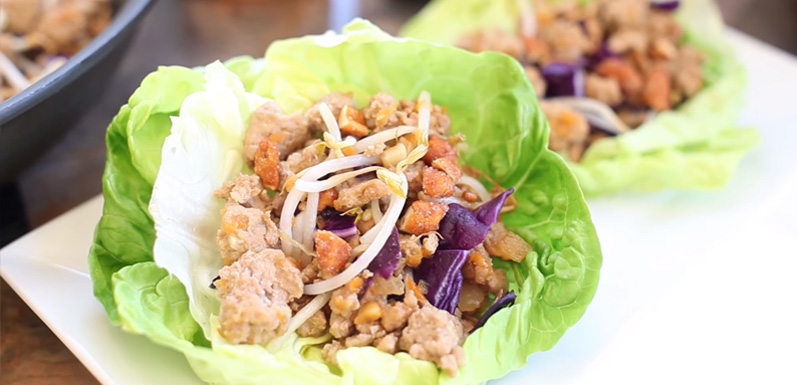 Honey Chicken Lettuce Cups
Lettuce cups are a great grain-free way to enjoy your favorite wrap fillings in a light, fun-to-eat dish. The honey adds a touch of sweetness to balance out this tangy Asian-inspired meal. Enjoy as a lunch option for you or the kids, or pair with steamed veggies to create a dinner that the whole family will enjoy.
INGREDIENTS
3 Tbsp GloryBee Raw Organic Clover Blossom Honey
2 Tbsp soy sauce
1 Tbsp rice vinegar
½ Tbsp sesame oil
2 Tbsp Aunt Patty's Extra Virgin Olive Oil
1 small onion, diced
2 cloves garlic, grated
1 ½ pounds ground chicken or turkey
½ Cup shredded carrots
½ Cup shredded purple cabbage
½ Cup bean sprouts
⅓ Cup honey roasted peanuts
Butter lettuce leaves - for serving
DIRECTIONS
In a small bowl, whisk to combine honey, soy sauce, rice vinegar and sesame oil. Set aside.
In a large skillet, over medium-high heat, place olive oil and onions. Begin to sauté onions until they become golden and translucent, about 3-4 minutes. Add garlic and sauté for an additional minute.
Add ground chicken and shredded carrots to the skillet. Cook, stirring frequently and while breaking up the chicken pieces, until it's cooked throughout, about 5-7 minutes.
Pour sauce over cooked chicken mixture and combine. Place the lid, reduce heat, and simmer for 3 minutes.
Top with bean sprouts, chopped cabbage, and roasted peanuts and cover for an additional 3 minutes. Scoop mixture into lettuce cups and serve.
Adapted from the National Honey Board & Laura Fuentes