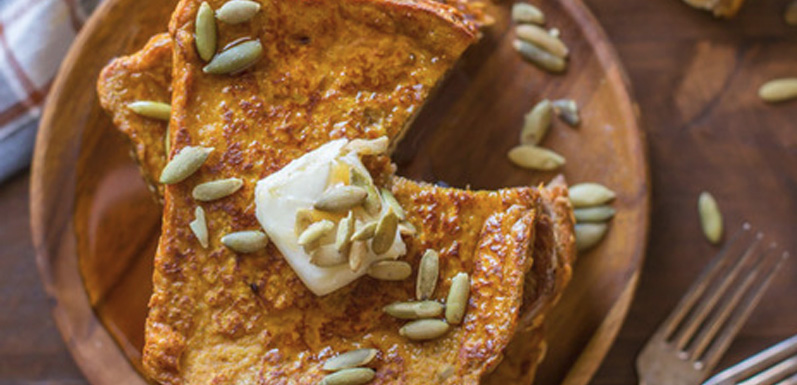 Pumpkin Pie Spice Stuffed French Toast
To celebrate our partnership with Dave's Killer Bread and their new Honey Oats & Flax bread made with our honey to help support Save the Bee, here's a recipe from the DKB collection with a few of our own favorite ingredients.
Most mornings, you may only have time for a piece of toast and coffee on your way out the door, but here's a delicious dish for those days when you find yourself with a little extra time to fix something special. Choose your own toppings to customize, such as pecans, maple syrup, pumpkin seeds, or coconut flakes.
INGREDIENTS
8 slices Dave's Killer Bread Honey Oats & Flax
1/2 Cup pure pumpkin puree
1/2 Cup milk
3 eggs
1/2 tsp Aunt Patty's Pumpkin Pie Spice
1 Tbsp brown sugar, packed
1/2 tsp Aunt Patty's Pure Vanilla Extract
Aunt Patty's Virgin Coconut Oil for pan or skillet
FILLING
8 ounces cream cheese, softened
2 Tbsp maple syrup
1/4 tsp Aunt Patty's Pumpkin Pie Spice
DIRECTIONS
1. In a medium bowl, whisk together pumpkin puree, milk, eggs, pumpkin pie spice, brown sugar, and vanilla extract. Set aside.
2. In another bowl, whip cream cheese, maple syrup, and pumpkin pie spice with an electric mixer until smooth and creamy.
3. Lay out eight slices of Dave's Killer Bread Honey Oats & Flax. Place 1/4 of the cream cheese mixture on the center of four of the slices, and top with the remaining half, pressing gently to spread the cream cheese toward the edges.
4. Preheat a large nonstick pan or skillet over medium heat, and then add coconut oil generously. Dip the bread into the pumpkin puree mixture, quickly, and then turn over and repeat. Allow excess to drip off, and then place on the skillet. Cook 2-3 minutes per side, adding more oil as needed.
5. Repeat with remaining bread slices.
6. Top with butter, maple syrup, pecans, pumpkin seeds, or coconut flakes, and serve immediately.
Recipe adapted from DKB Ambassador Lovely Little Kitchen