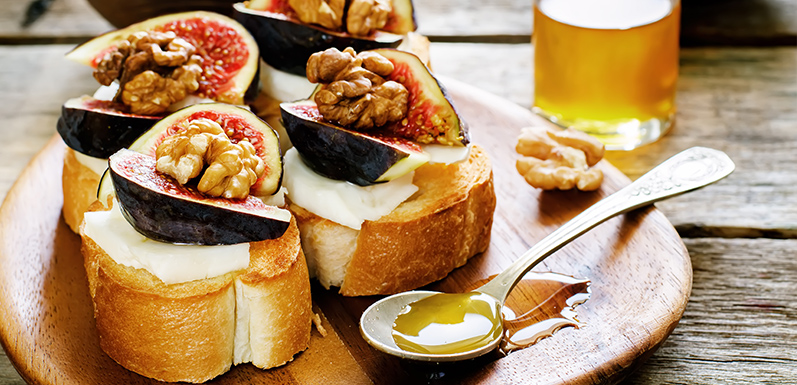 Roasted Figs with Gorgonzola and Honey
Put on your party hats and bring out the delicious eats to ring in the new year! New Years Eve is the perfect time to bring health-minded appetizers to the table to share with friends and family.
Try this warm salty-sweet combination with the healthy element of vitamin and mineral-rich figs to wow your guests. Place the figs and gorgonzola on top of bruschetta for a more filling bite.
Roasted Figs with Gorgonzola and Honey
Ingredients:
12 ripe Mission figs
Balsamic Vinegar
6 oz of Gorgonzola cheese, crumbled
Salt and pepper
2 Tbsp of GloryBee® Organic Clover Blossom Honey
Walnuts (optional)
Toasted Baguette Slices (optional)
Instructions
Preheat oven to 350° F
Cut figs in half and place them on oiled baking sheet (use Aunt Patty's Organic Unrefined Virgin Coconut Oil)
Season with salt and pepper and drizzle with balsamic vinegar to taste
Bake for 5-6 minutes until soft and bubbling
Remove baking sheet from oven, place cheese on the top of each fig, gently pressing the cheese into the fig
Bake in the oven for 2 minutes for cheese to melt
Plate the figs and drizzle with honey