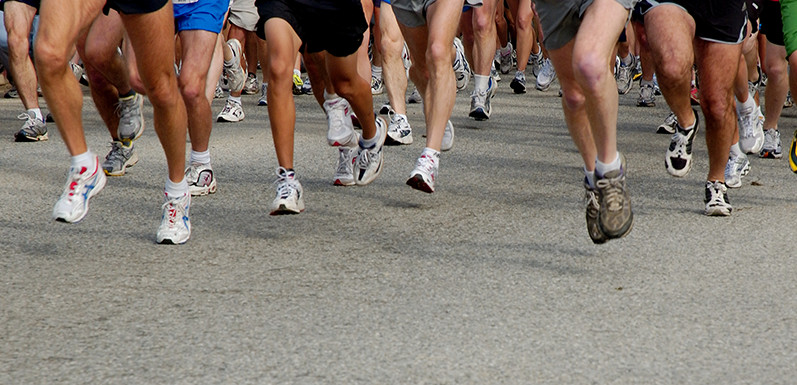 Save the Bee 5K Tips: What Runners Can Learn From Honey Bees
For this post, we interviewed some of our best friends—the honey bees!  They took a few minutes out of their busy spring schedules to share these helpful hints.
Hey runners—we heard you're preparing for the Save the Bee 5K coming up on April 23. We wanted to share a few training tips. Sure, WE use these tips in our tasks of gathering nectar and pollen, raising baby bees, guarding the hive, making honey, and more—but we think they'll help you run a great 5K, too!
#1: Teamwork
The whole lifespan of a worker bee is spent as part of a team. No matter what task we're assigned at the moment—nurse bee, hive guard, forager, whatever—we know that we're part of a team working towards the same goal. The same goes for runners. You may feel like you're out there on the race course alone, but the journey is so much sweeter if you spend time encouraging others and being cheered on by them. Don't be shy! Call out "good form" to someone looking strong or "you can do it!" to someone who might be struggling.
#2: Give It Your All
We honey bees don't do anything half way. Did you know that when we die, it's usually because our wings have simply worn out from being used so much? While we recommend that you stop before THAT happens, we do think you can take a lesson from us. As long as you are not feeling pain and you know you are healthy enough, dig deep and give it everything you've got! When surrounded by your fellow bees racers, the excitement is often enough to improve your time by several minutes!
#3: Sweet Victory
We honey bees work hard to build up our honey stores so that we have plenty to eat over the winter. Yum… we love honey! Equally sweet is that feeling of accomplishment you get when you cross the finish line at the end of a great race. Enjoy it! Then step out of the way, turn around, and cheer on your fellow runners as they speed to the finish. Sweet victory for all!
GloryBee's second annual Save the Bee 5K Run/Walk and Kids Dash will take place at Richardson Park by Fern Ridge Reservoir on April 23, 2016. The race will begin at 10:00am sharp, so be there early to stretch and mingle with friends before you're off to the races!