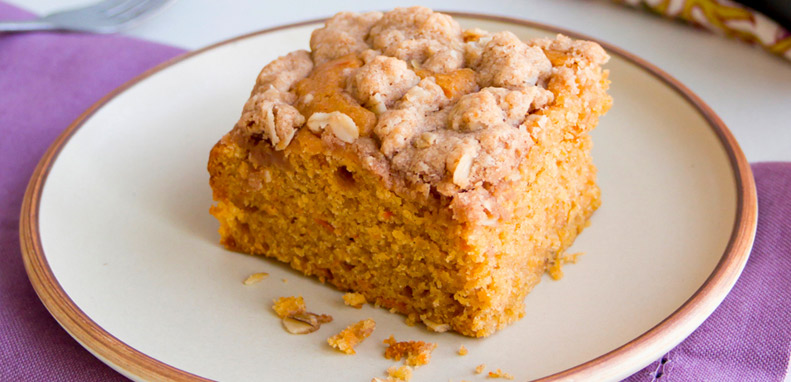 Sweet Potato Coffee Cake
We're always looking for updated recipes of timeless brunch classics - like this Sweet Potato Coffee Cake. It only takes minutes to mix up, but will provide smiles to anyone who gets a piece. Top it off with a dollop of fresh whipped cream and you've created dessert! Enjoy!
Ingredients
Streusel topping:
⅓ Cup all-purpose flour
½ tsp cinnamon
5 Tbsp butter (softened)
Coffee cake:
2 Cups all-purpose flour
2 tsp baking powder
¾ Cup sweet potato puree
¾ Cup 2% milk
2 Eggs
Directions
 Preheat oven to 350℉. Lightly oil a 9" springform pan or square baking pan.
For streusel topping, in a medium bowl combine flour, oats, sugar, and cinnamon. Work butter into mixture with fingertips until crumbly. Set aside.
For coffee cake, in a large bowl, combine flour, sugar, baking powder, cinnamon, and salt. In a separate bowl, whisk together sweet potato, milk, oil, eggs, and vanilla. Fold wet ingredients into dry ingredients. Batter will be stiff. Spread batter into pan and sprinkle streusel on top.
Bake until a toothpick inserted in the center comes out clean, 45-50 minutes. Cool 10 minutes before serving.