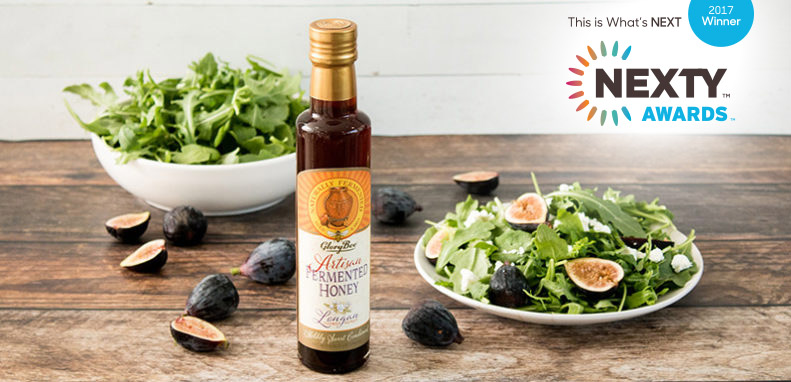 GloryBee's Artisan Fermented Honey Vinegar receives "Best New Condiment" Award
Eugene, Ore: Integrity, innovation and inspiration. These are the three criteria the natural products industry uses when reviewing new products. The NEXTY Awards were created to spotlight the year's most exciting natural products. In 2017 the judges looked at products in twenty-one categories. One of the most talked-about products this year is the winner of the "Best New Condiment" Award—GloryBee's Artisan Fermented Honey.
As a company that's been buzzing about all things bees for more than 40 years, it was hard for GloryBee to imagine anything from the hive they hadn't heard of, yet while in Thailand they were introduced to fermented honey. After just one taste of this low-acid vinegar, they were hooked. Dick Turanski, founder of GloryBee, enthusiastically recalls, "As soon as I tasted the fermented honey, I was amazed by its profound flavor. I knew right away this was a product we needed to share with our customers."
GloryBee Artisan Fermented Honey
Integrity: Crafted with pure, all natural Thai longan blossom honey using a traditional fermentation process that traces back to ancient eras.
Innovaton: Aged for 6 months in ceramic fermentation vats, green tea is added to reduce acidity, then it's topped off with a final round of honey to add sweetness and round out the tartness of the vinegar for a smooth taste.
Inspiration: One percent of all sales of GloryBee Artisan Fermented Honey is donated to SAVE the BEE to help fund critical honey bee health research.
With 20,000 new food and beverage products entering grocery stores every year, it's important consumers know which natural products are healthy for them and the planet. The NEXT Awards recognize the very best in natural foods, letting people know which natural products are of the highest integrity. For a complete listing of the 2017 NEXT Award winners, visit: 2017 NEXTY Awards website.