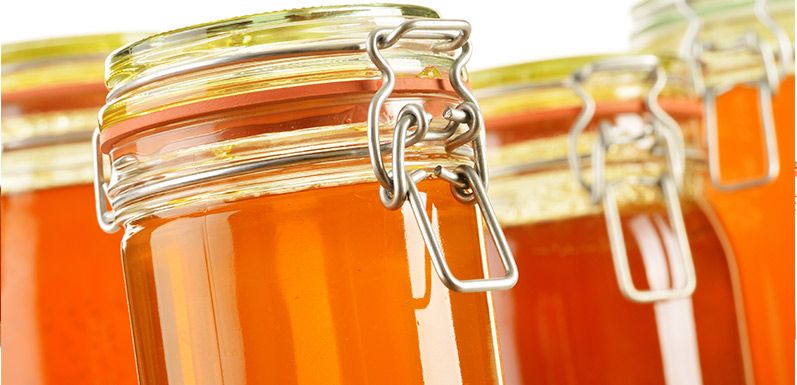 The honey bears many families have in their homes sure are cute, but they're popular for a plethora of other reasons, too. Organic honey is definitely having a moment. It's the go-to for everything from artificial sweetener alternatives to allergy relief. But if you've already found where to buy honeystix and honey bears in your area, you might be looking for a few fun and creative ways to incorporate the sweet stuff into your favorite foods and activities. Below, you'll find three surprising ways you can put to good use your knowledge on where to buy honey stix.
Make delectable salad dressings
According to food chemists at the University of Illinois, honey can act as both a sweetener and as a preservative. That means that it's the perfect component to salad dressings your family will love. Try a combination of honey, lemon, olive oil, and herbs or spice things up with a honey ginger or honey jalapeno. The honey will help keep these dressings good for up to nine months, but unlike store-bought condiments, you don't have to worry about chemical preservatives. So find where to buy honey stix in your area and pick up some seasonal produce on the way home tonight for a new twist on the boring bed of greens.
Save seasonal fruit
Love to can summer fruits? Honey is the way to go. While some prefer water, because honey is technically an acid (it has a pH between 3.2 and 4.5), it helps reduce the risk of bacterial spread. That means that your fruit will last a lot longer and you can enjoy it all winter long without worry. Some experts say a mixture of honey and water -- a 1:10 ratio -- works best. Now that you know where to buy honeystix, you can put those little packets to good use!
Create delicious desserts
Obviously, anyone who has a sweet tooth will enjoy using honey in the kitchen. But while drizzling it on ice cream, goat cheese, or apples can be scrumptious, it's not the only way to enjoy this treat. You can use it to make some of your favorite indulgences and avoid the store-bought, chemical-laden versions in the process. For instance, you can use honey to make marshmallows, caramel sauce, chocolate, and even almond milk and cocktails! So whether you're in the mood for a sundae or a s'more, you've got at least one of the best ingredients already in your cupboard.
Whether you're wondering where to buy honey stix or you've already stocked up and are ready to get cooking, these yummy ideas should whet your appetite. And of course, a little extra drizzle of honey will make just about any dish even better.