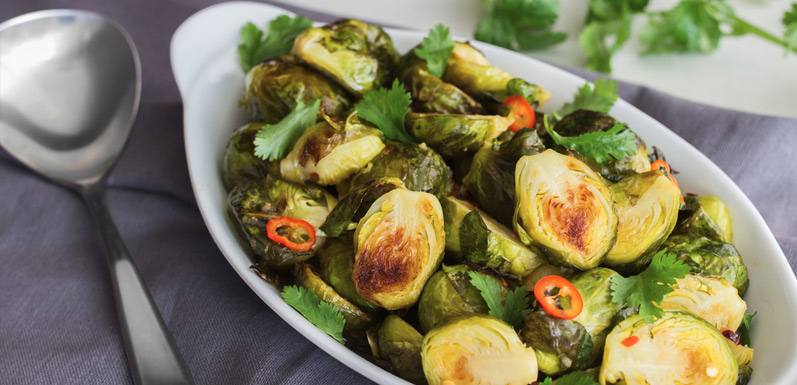 Thai Brussels Sprouts
This crispy Brussels sprouts in an authentic Thai chili fish sauce recipe may soon become your favorite side dish!
Brussels sprouts are members of the cabbage family and are a great source of vitamin C. When properly cooked, these crispy sprouts burst with hearty flavor. However, the star ingredient in this unique Thai Brussels sprouts recipe is GloryBee's Artisan Fermented Honey, which adds a hint of tangy sweetness to this traditional Thai treat.

Ingredients
1 pound Brussels sprouts, halved
2 tablespoons preferred vegetable oil
2 tablespoons Glory Bee Artisan Fermented Honey
1 tablespoon fish sauce
1 tablespoon rice vinegar
1 garlic clove, minced
1" piece fresh ginger, peeled and grated
2 small red chiles, thinly sliced
Directions
Preheat oven to 425℉.
On a baking sheet, toss together Brussels sprouts and oil. Turn Brussels sprouts so cut side faces down and roast until tender and browned, about 25 minutes.
While Brussels sprouts roast, in a small bowl whisk together honey, fish sauce, vinegar, garlic, and ginger. Toss hot Brussels sprouts with the dressing and serve garnished with chiles.