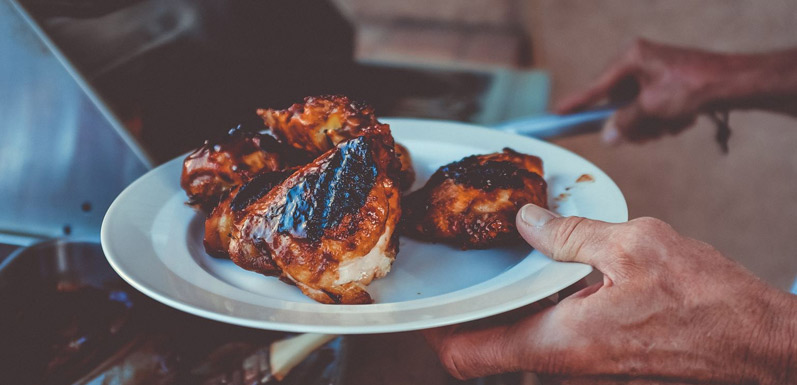 If you're like us in the Pacific Northwest, we keep our grills and barbecues out year round. Rain or shine, grilling can be a healthier way to prepare your meals instead of baking and frying using oils.
We like to add honey to our grilling sauces. One of our favorites is our Gourmet Habanero Honey. It adds a spicy kick to the smoky barbecue flavor. Check it out!
INGREDIENTS
3 lbs. fresh chicken parts, rinsed, drained and patted dry
For Marinade
3 T olive oil
1 tsp. salt
1 tsp. fresh ground pepper
juice of 1 orange , zest reserved for basting sauce
For Basting Sauce
1/2 cup ketchup
1/2 cup honey
2 T soy sauce
2 T hot chili sauce
1 clove garlic, minced
1 T fresh ginger, minced or 1 tsp. ground ginger
2 T cilantro, chopped, for garnish
DIRECTIONS
Toss the chicken pieces in plastic zipper bag with the olive oil, salt, pepper and orange juice, refrigerate.
Combine all the basting sauce ingredients, except the cilantro, into a small saucepan and cook on low for 15 minutes. Reserve 1/2 of the sauce.
Heat a grill or grill pan to medium-high and cook the chicken pieces on all sides, about 5 minutes per side. With a basting brush, coat the chicken on one side, cook for 2 minutes. Turn the chicken and baste the other side, continuing to cook until the chicken is completely cooked through.
Remove the chicken from the grill and drizzle with the reserved sauce and the fresh cilantro.
TIP
Be sure to oil the grates of the grill right before put the chicken on. You can leave the chicken in the marinade overnight if you wish.
Recipe courtesy of the National Honey Board (www.honey.com)