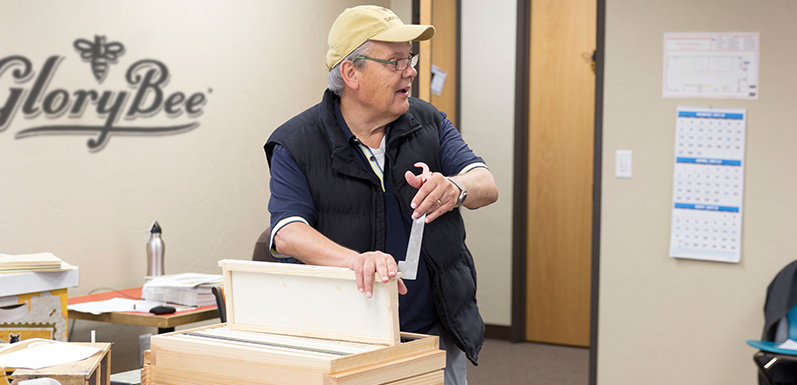 Beekeeping Classes for 2016
Thinking about getting into beekeeping? GloryBee is here to help. We have three instructional  beekeeping classes scheduled for early 2016 leading up to our Annual Bee Weekend.
All classes will be held at our "Bee University" in Eugene Oregon. To register, give us a call at 1-800-456-7923. Spaces fill up quickly so be sure to call soon.
Saturday, January 30, 2016– Beekeeping 101
Learn about the fundamentals of beekeeping and the impact and importance of Honey Bees on our environment and food sources, from our in-house beekeeper, Mike France.
Mike will review what it takes to be a successful beekeeper and give tips on how to promote a healthy and happy hive. With the price of admission, each participant will receive a copy of the book "First Lessons in Beekeeping".
$25 fee for this class- maximum of 25 participants.
Saturday, February 20, 2016 – Ask a Beekeeper with Dick and Alan Turanski
A great session with two expert Eugenian beekeepers, Dick and his son Alan Turanski. Demonstrations and information on everything bee related. This wonderful, interactive session allows an up close and personal experience with two master beekeepers. Bring questions and a notepad.
No charge- maximum of 30 participants.
Saturday, March 19, 2016 – How to build boxes, frames and a moisture box.
Be prepared for the 2016 season and learn how to build your complete bee box. Learn to build frames with a foundation, assemble a hive box and build a moisture box; all to protect your hive from our damp Willamette Valley weather. This is a hands on, interactive class that will allow you to walk away prepared to house your new hive. Each participant takes home one medium super and one medium frame.
$30 fee for this class- maximum of 25 participants.
To register, give us a call at 1-800-456-7923.