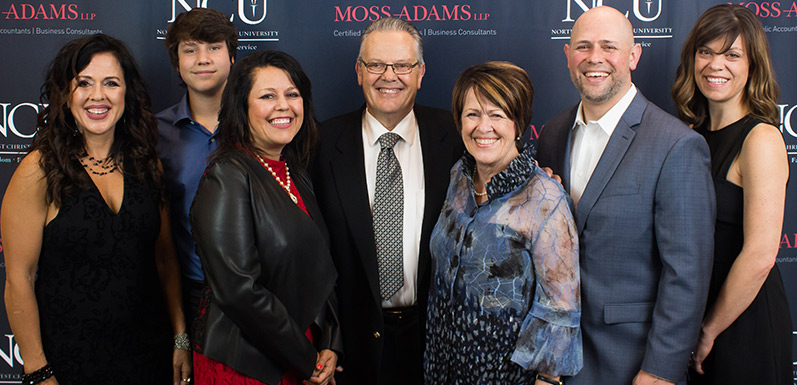 Northwestern Christian University recognizes GloryBee for 43 years of community service.
Eugene, Ore: Lane County community leaders gathered together on May 11, 2017 to honor the 2017 Exemplary Ethical Leadership Award recipients during An Evening of Tribute, presented by Northwest Christian University's Center for Leadership and Ethics. This year's three recipients were businessman Phil Speers, non-profit Eugene Mission and honey company GloryBee.
In 1975, GloryBee started as a simple family honey stand in Dick and Pat Turanski's garage, with a dream of providing natural, healthy ingredients to friends and family. Over the years, their business grew, increasing their ability to serve their community. Today GloryBee is operating under its second generation of leadership. President Alan Turanski and Executive Vice President RaeJean Wilson continue to practice the GloryBee family tradition of helping others and inspiring community cooperation.
"Receiving this award is a direct result of the ideals of integrity and ethical leadership our founders exemplify," says Wilson. "We are truly honored to be recognized by such an outstanding organization alongside the Eugene Mission and Phil Speers."
GloryBee offers employees paid community service hours and sponsors non-profits like the Eugene Mission, Habitat for Humanity, School Garden Project and FoodCorps. In addition, they created two social impact programs- SAVE the BEE, which raises funds to support honey bee health research and FOOD for HEALTH, an initiative which inspires kids to eat healthy.