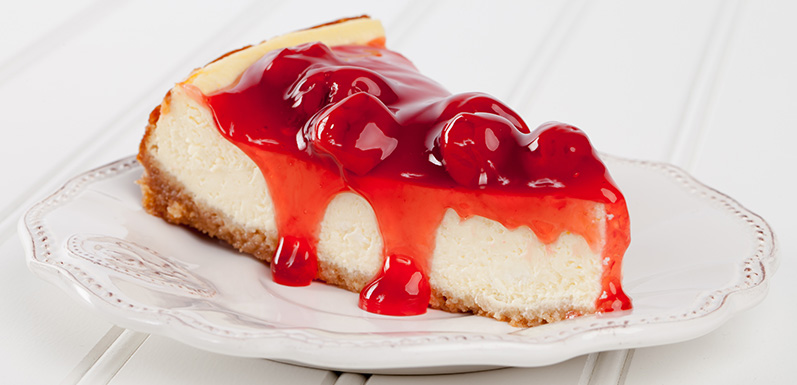 Cherry Cheesecake
In celebration of President's Day, we wanted to pass along a new spin on an old recipe. How about cheery cheesecake instead of cherry pie? We also love partnering with our neighbor, Nancy's Yogurt. Nancy's cream cheese and sour cream are exceptional quality and they taste great along with GloryBee and Aunt Patty's products. Give our recipe a try and let us know what you think!
Ingredients
Crust ingredients:
1-1/4 cup crushed graham crackers
1/3 cup Aunt Patty's Fair Trade Coconut Oil
½ cup Aunt Patty's Coconut Sugar
1 Tsp cinnamon
Pinch of fine sea salt
Filling ingredients:
16 ounces cream cheese, softened (We like Nancy's).
1 cup Aunt Patty's Coconut Sugar
3 Tbls organic sour cream (Again, it's hard to beat Nancy's)
½ Tbls vanilla
2 organic eggs
Cherry Topping ingredients:
5 cups organic frozen pitted cherries
¼ cup water
1 tbls corn starch
1 tsp almond extract (optional)
Directions
Crush graham crackers in food processor or by using a plastic bag and using a rolling pin.
Place crushed graham crackers, coconut sugar, cinnamon, and fine sea salt into mixing bowl and mix together with a fork or spoon.
Gently warm coconut oil to a liquid state.
Slowly pour coconut oil into dry ingredients while mixing to ensure good coverage.
Pour mixture into 9 inch pie pan and use bottom of drinking glass to compact mixture. Use the back of a spoon or your fingers to compact the sides.
Bake at 350 degrees for 10 minutes. Allow to cool.
While baking crust, mix ingredients for filling. Combine softened cream cheese, coconut sugar, sour cream, vanilla and eggs in a large bowl with an electric mixer.
When crust has cooled slightly, pour filling into pie pan. Bake in preheated oven at 300 degrees for 65-70 minutes until set.
Cool completely, storing in refrigerator until ready to serve.
For topping, combine cherries, coconut sugar and half of water in a medium saucepan until heated thoroughly. Take cornstarch and remainder of water, make into a simple slurry. Add to cherries and mix until thickened. Top each slice of cheesecake with cherries right before serving. Enjoy!