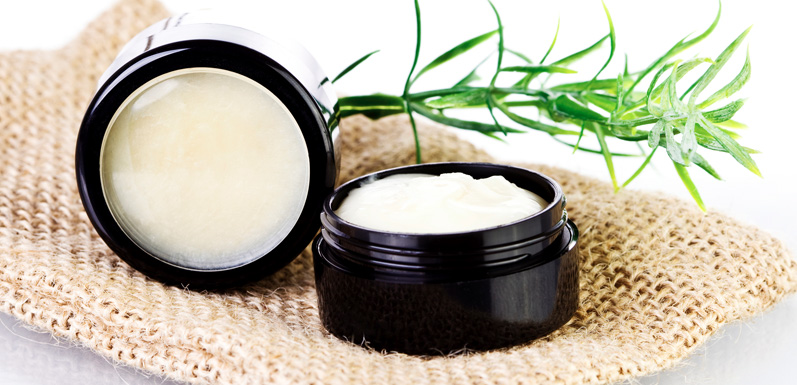 Whipped Body Butter
Body butter is a great alternative to your average lotion and has a silky cloud-like texture that is light and easy to apply. The main difference between body butter and lotion is that lotions contain up to 70% water, which although an essential nutrient for our bodies, limits the potential for other ultra-moisturizing components.
This body butter will absorb quickly into your skin and provide long-lasting hydration and nourishment. You won't go back to your old store-bought lotion after seeing the results and cost savings of this DIY recipe!
EQUIPMENT

Kitchen Scale
Double Boiler (or medium pot, glass measuring cup, and canning ring)
Electric Mixer
Small Jars or Containers for storage
INGREDIENTS
30 grams Aunt Patty's Virgin Coconut Oil
30 grams GloryBee Cocoa Butter
85 grams GloryBee Jojoba Oil (or other liquid carrier oil of choice)
35 grams GloryBee Emulsifying Wax
8 grams GloryBee Stearic Acid
6 grams GloryBee Germaben II
5-15 drops skin-safe essential oil (depending on how strongly scented you'd like your body butter)
INSTRUCTIONS
1. Melt all ingredients except Germaben II and essential oil in a double boiler (a glass measuring cup sitting on a canning ring in a pot of water works well). Stir until all ingredients are liquid.
2. Remove from heat and add Germaben II and essential oil. Stir thoroughly.
3. Wait until mixture is around body temperature (whisking mixture every 10 minutes or so).
4. Using electric mixer, whip mixture for at least 10 minutes. This step is crucial, as it will keep your body butter from separating later.
5. Pour into jars and let sit overnight to firm up.